In our digital age, many people are attempting to do their Last Will and Testament online or
through a Do It Yourself (DIY) service. Unfortunately, the simple "fill in the blank" approach of
online Wills is usually not the best way to protect your family and beneficiaries. If your Will is
done incorrectly, you will probably never find out, but your loved ones will pay the price in
increased legal fees and delays during the Probate process.
There is no substitute for getting live advice from an experienced Estate Planning Attorney who
is familiar with your personal situation and your local probate statutes and caselaw, which can
affect your will. While some of the online services claim to offer lawyers on staff, these lawyers
rarely offer specific advice for your personal situation, and if they do, the price will significantly
increase thereby defeating the purpose of the cheap online Will.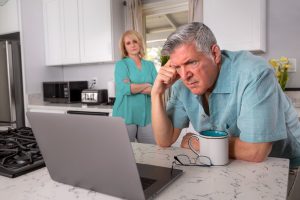 In our office, we usually offer free initial consultations so that we can develop your personalized
estate plan. Often, these consultations will lead the client to think about other issues which they
may not have considered when they came in to do a "simple will". In many cases, people find
out that their will is not really "simple". For example, a fill-in the blanks online will is not going
to advise a person if and when they should include a testamentary trust in their Will. However, if
any of the following situations apply to you, then your will may require a testamentary trust to be
incorporated into your will:
-If you have beneficiaries who are minors or too young to manage the inheritance on their
own. In these situations, a simple online will does not work. Having "minor" beneficiaries will
require the executor to continue to manage the inheritance after your death, and this will require
a trust.
-If you have beneficiaries who are disabled or elderly
-If you have beneficiaries who have creditor issues or are spendthrifts
In all of these situations, your beneficiaries will require the executor to continue to manage the
inheritance after your death, and this will require a testamentary trust. An online service is not
going to advise you on whether you need a testamentary trust nor would I have any faith in their
advice, if they attempted to do so.
In addition, if the value of your estate is over the State or Federal estate tax limits, there is tax
planning that can be achieved through your will, which is also well beyond the scope of a DIY
Will.
If you have any special wishes with real estate or similar assets, a fill-in the blank form will not
suffice.
In addition, in New York, a Will executed under the supervision of an attorney is presumed to be
validly executed. An online will does not have this presumption of validity. Again, this may not
be visible to you but it will affect your beneficiaries after you pass away. Similarly, if you are
disinheriting any of your next of kin, a Will done online will be more susceptible to challenge by
disgruntled family members.
Finally, a good estate planning attorney can give you advice on avoiding the probate process
altogether, thereby eliminating the need for your family to validate the Will in Probate.
If you have any questions, you can call Silvagni and Como at 718-928-3355 or email your
questions to [email protected]