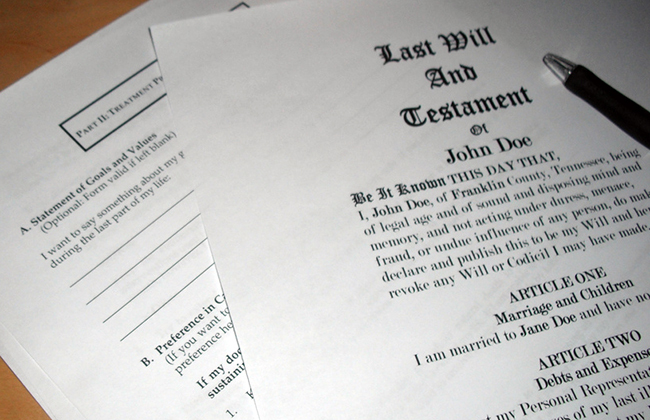 While is important to have a Will and related Estate documents, it is equally important to review
and update any existing Wills you may have to ensure that they correctly reflect your wishes. It
is especially important to re-visit your Wills after certain life events occur either to yourself or
someone named in your Will. Below, I will review certain events which may require you to
review your current Will:
Marriage or Divorce: The marriage of yourself or someone named in your will may affect your
current will and require an update. This is especially important if it is a second marriage or if
there are children from different marriages. If you or someone named in your will gets Divorced,
you should also review your Will, especially if former spouses are named in your old Will.
Children: If you have had new children or grandchildren since your last Will, or if anyone
named in your Will has since had children, you should review your will to determine whether the
"new" children should be included as beneficiaries or alternate beneficiaries.
Beneficiary reaching Adulthood: If you executed a Will when your children or other
beneficiaries were minors, you should carefully review the Will once they become adults. If a
child becomes an adult, you may wish to update the manner in which they receive their
inheritance. In addition, you may also wish to update your will to name your children as
executors, since the old Will may have named another adult family member as executor/guardian
for the children while they were minors.
Death or Incapacity of a Beneficiary/Executor: If your Will names persons who are deceased as
beneficiaries or executors, then the Will may have be updated to remove the deceased person and
add an alternate person. In addition, if one of your beneficiaries is disabled or incapacitated,
then you should review the Will to determine whether the person should be removed from your
Will or if a trust should be drafted for their benefit. If a person named as your executor becomes
disabled or incapacitated, it is very important to update the executor in a new Will since that
person may no longer be able to administer your estate.
Change in Financial Status: If your estate has significantly increased or decreased since your last
Will, then it should be reviewed to ensure it has the most updated tax language. Also, if there has
been a change in the financial status of a beneficiary, you may want to update your Will. For
example, if one of your beneficiaries has judgments, issues with creditors, money problems, or is
on government assistance, you should review and update any bequests to that person. In these
cases, it may be advisable to establish a trust for the beneficiary.
Other examples of events which should cause you to review your Will include moving to another
state, changes in tax laws, family problems, or if more than 5 years has passed since you last
reviewed your Will.
You should speak to an experienced attorney to get more information on updating your Will.
You can call Silvagni and Como at 718-928-3355 or email your questions to
[email protected]